K9
As the central housing of transmission for new type self propelled howitzer, it isa full automatic 4-forward and 2-reverse stage transmission made of aluminum alloy casting and has input power of 1100HP/3000rpm. It has undergone air leak test under 1.5kg/㎠ and has tensile strength or more than 200Mpa at temperature of 200℃. It has 580 processing and forms 1300 m hydraulic way.
C355-T71
1200×1000×700
Center Housing of T/M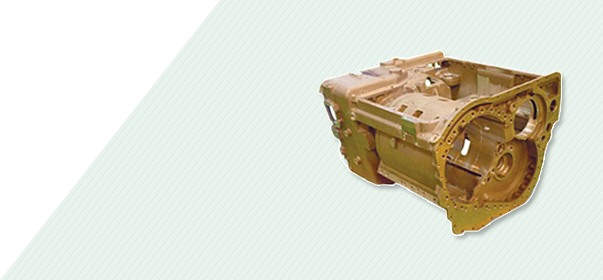 As the cooling housing for the engine of new type self propelled howitzer, it is a thin product which has 7 mm or less in its thickness but withstands high temperatures.
Having the turbo impeller moving at 6000 rpm inside it, it shall have no twisting and have good durability.
356-T6Cooling Housing
1400×1200×350

C355-T6Right Housing Output of T/M
940×210×740

G-AISi10MgwaExpansion Tank of Engine
925×400×250

C355-T6Left Housing Output of T/M
940×260×780

AC4A-T6Oil Tank of Engine
810×360×280